Roads & Highways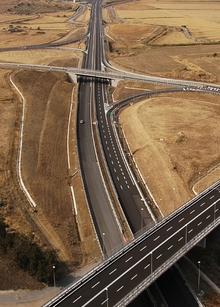 Italconsult has carried out important and challenging transportation projects on a worldwide scale in areas characterized by different physical conditions on behalf of governments and international financing agencies (including the World Bank, the Asian Development Bank, the European Union, etc.). It has thus contributed to the development of vast areas that previously subject to difficult transport problems.
The experience gained by the Company since its incorporation can be summarized in the following figures:
• Planning and Feasibility Studies 45,000 km
• Preliminary and Final Designs 32,000 km
• Supervision of Works 25,000 km for a total construction cost of about 30 billion US$ and mobilizing site staff for more than 160,000 man-months
Road Planning: this ranges from master plans and investment programmes established on the basis of pre-feasibility/feasibility studies to economic and financial analysis, environmental/landscaping analysis and evaluations, project ranking, up to conceptual/preliminary design, sensitivity and risk analysis.
Road Design Engineering: through an integrated system of a specialized software, we have been able to manage the coordinated development of all stages of road design covering: mapping and digital models of the terrain, horizontal and vertical alignments, earthworks, coordination of plans and profiles, paving, structural analysis and calculations, environmental impact and mitigation measures, road safety, work programmes and determination of all the elements necessary for tendering inclusive of BoQ. and confidential cost.
Road Construction Supervision: when the company was established, Italconsult set up an in-house organization to cover all aspects of Supervision of Works for its own projects and those drawn up by other Consultants. Most of the assignments took place in countries located in nearly every continent. Our Company has been able to corroborate the validity of the design solutions adopted for its own projects, while acquiring invaluable experience on the most advanced implementation techniques, as a result of operating in close contact with world-famous contractors. The essential element that has allowed Italconsult to develop its Supervision of Works activities, and which justified the leading role it plays in this field, is its complete autonomy and independence - both direct and indirect - from construction firms.
Road Maintenance: our Company has also assisted Clients in planning and organizing of road maintenance. The Company's capabilities are based on awareness of the interaction between design standards, quality of execution and maintenance needs, and it has assisted Clients in achieving the optimum solution in the "investment + recurrent expenses" equation and in determining the most efficient way to satisfy maintenance needs. We adopt numerous procedures in relation to pavement maintenance, control and maintenance of highway structures, and identification of "black-spots".