Metro & Railways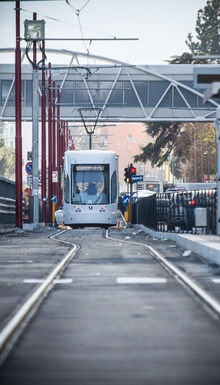 Since the first years of the '70s, Italconsult has provided engineering services for carrying out planning and feasibility studies, design, works supervision as well as PMC services in the railway sector on worldwide scale.
Projects include improvement, modernization/upgrading and rehabilitation of entire railway networks, funded by the World Bank, in: Argentina (network of 40,000 km), Colombia (network of 3,400 km), Nigeria (network of 3,500 km) and Turkey (network of 1,800 km), as well as lines in Algeria and Tunisia. Moreover, final design was executed for the rapid surface transit system for Lima and Callao (Perù) between Villa San Salvador and Hospital 2 de Maio, whilst for the Metro for Bogotà (Columbia), 40 km in length, was planned and designed at preliminary level.
In Italy, the experience acquired includes various single lines of the national network, such as the new High Speed Line connecting Genoa and Milan, 140 km in length.
We have also acquired experience in mass transit systems (design of new links and/or improvement and strengthening of existing ones) involving the urban and sub-urban (metropolitan) areas of:
• Rome: lines "A" and "C" of the Metro and various links connecting the city with its suburbs.
• Milan: by setting out a full project cycle for transforming the old regional lines into a suburban rail system serving the town and its suburban area. The project has involved the quadrupling of 21 km of an existing line connecting an old part of Milan (Bovisa) with the centre of Saronno, and the extension to Malpensa Airport.
• Palermo: new tramway lines about 15 km long, some railway stretches related to Palermo Railway Bypass and Palermo Ring Rail System and new interprovincial lines (with Messina and Agrigento).
• Catania: Circumetnea railway line serving the city and connecting it, for about 110 km, with the main urban centres along the slopes of the Etna Volcano.