Tor di Valle Stadium
KEY FACTS
Services:
For the commercial spaces of "Convivium C1" ,
"Promenade-Retail B1" and of the
multi-level car parking P1 and P2:

• Schematic design
• Architectural design
• Structural design
• MEP design
Location:
Rome
Country/Region:
Lazio, Italy
Client:
• Stadio della Roma
• Euronova
Completion Date:
2017 - ongoing
GALLERY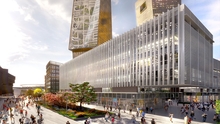 A new state-of-the-art, world-class 52,500-seat venue, Stadio Della Roma is being custom-designed to create an outstanding game day experience for fans. The new stadium's sightlines and proximity to the pitch are designed to deliver the most vivid and action-packed fan experience in all of world football. Every seat will offer unparalleled views of the action.

Stadio Della Roma will proudly represent the city of Rome – a glorious mix of past, present, and future in design and materials. The architecture of the new stadium pays tribute to Rome's rich history while embracing the internationally-acclaimed modern and innovative Italian design aesthetic.

Stadio Della Roma will serve as an anchor for a larger new privately owned and managed mixed-use development. This entertainment district will become an active seven-day-a-week hub for dining, entertainment, and work - including a new conference center - hospitality, and sport. It will transform the way Romans weave sports and entertainment into their daily lives.

Built-up area:
Shopping mall: sqm 22,000.
Car parking: sqm 200,000.