South Shamka Infrastructure Project
KEY FACTS
Services:
•Design Review
•Construction Supervision
Location:
Abu Dhabi, Eastern Region
Country:
United Arab Emirates
Client:
Abu Dhabi Distribution Company
Completion Date:
March 2015
Characteristics:
•4,300 ha development area
•422,000 m of potable water system (from 80 mm to 800 mm)
•66,000 m3/day ultimate water demand
GALLERY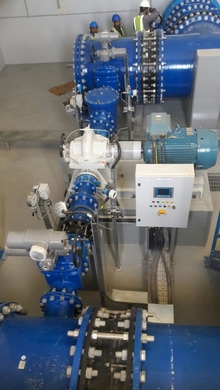 South Shamkha is a mega development, spread over 4,300 hectares, which will provide over 12,000 new villas in 43 neighborhoods. The project area, located 50 km south of Abu Dhabi Island, is planned as a series of neighborhoods focused on self-sustaining regional community centers. The expected resident population will amount to over 130,000 in addition to 35,000 non-residents working in offices, retail, and commercial activities along with public and social facilities.
For the South Shamkha infrastructure project, Italconsult has provided engineering services for design review, construction supervision, assets verification and handing over of the potable water distribution system. The water system consists of 2 pumping stations and 422 km of distribution pipelines for an ultimate water demand of 66,000 m3/day.
The distribution network has a sectored layout with 30 controlled and monitored sectors, providing improved efficiency of network operation and management. Pipe sizes range from 80 mm to 800 mm diameter. Storage and pumping facilities include two strategically located pumping stations supplying the distribution network with water from the upstream transmission system. Each station includes 2 x 22,500 m3 reinforced concrete tanks and adjacent pump house equipped with 6 + 2 variable speed pumps automatically operated to provide total flow rates ranging from 200 m3/h to 3,400 m3/h at pre-settable delivery pressure within 2.5 bar and 5.5 bar. The pumping process is fully automatic and controlled by redundant PLC system interfaced with SCADA. Hypo-chlorite production plant is included and water quality is monitored and automatically controlled.