Protection and Stabilization of Rock Cut & Fill Areas of Jabel Hafeet Road in Al Ain
KEY FACTS
Services:
• Design
• Assistance during Tender period
• Construction Supervision
Location:
Al Ain
Country:
United Arab Emirates
Client:
Al Ain City Municipality
Completion Date:
2012
Characteristics:
• Protection & Stabilization of Rock
GALLERY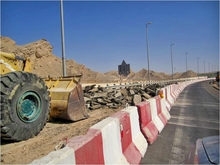 In the context to increase security along Jabel Hafeet Road in Al Ain Area, it was decided to do the protection and stabilization of rock cut & fill areas.
The project also involved the study for various kind of repair, rehabilitation, maintenance and reinstatement works along the road.
The assignment includes design and supervision of Protection & Stabilization of Rock Cut & Fill Areas of Jabel Hafeet road in Al Ain.
• Cleaning of fallen or loose rock along the road and parking.
• Cleaning of existing loose & unsafe rock from the rock cut top areas and its surround, including berms on cut slopes.
• Rock scaling on areas of rock cut slopes along the road including removing loose rock from the slopes until a solid rock area is established.
• Cut back existing unstable rock cut slopes at top of the high rock areas to agreed flatter slopes to establish solid &safe cut face.
• Various kind of repair and rehabilitation work for failures on the existing asphaltic pavement.
• Repair, reinstatement/replacement of existing footpath including new as necessary.
• Repair, reinstatement of existing concrete crash barrier and guardrail.
• Maintenance and reinstatement of damaged parking fence.
• Maintenance and replacement of traffic signs and other road furniture as necessary.
• Upgrading and improving the existing storm water drainage work.
• Repair and reinstatement of damaged road fill slopes including the existing protection works.
• Cleaning and repairing the existing cross drainage culverts including improvement as necessary.
• Repair and reinstatement of pavement and side slopes etc. resulting from provision of the existing and proposed services of other departments.
• Necessary traffic study with conclusion and recommendation for high quality service and safety on the road.
• Hard Landscaping in several locations, which includes furnitures & filttings like curvilinear purgiola, circular wooden platform, gazebo structures, semi shade pergola, barbeque stand grill etc...
The Consultancy engineering scope includes also getting all the NOCs, Approvals etc. from the Local Authorities and Government Depts for implementing the project.