Madinat Zayed to Ghayathi Road
KEY FACTS
Services:
• Preliminary and Final Design
• Construction Supervision
Location:
Western Region, Abu Dhabi
Country/Region:
United Arab Emirates
Client:
Department of Transport
Completion Date:
March 2015
Characteristics:
• 84 km of road
• 4 underpasses for vehicular U turn and Camel Crossing
GALLERY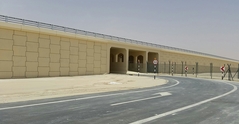 The Western Region of Abu Dhabi Emirates has been subject to remarkable developments in the recent years, and in order to improve the road connectivity between the different cities of the area, new roads have been planned under the 2030 Master plan.
Within this development plan, the Department of Transport has commissioned to Italconsult SpA the design and construction of the new road from Madinat Zayed City to Ghayathi City.
The Project is located between the Central Region and Western Region of the Abu Dhabi Emirate and it consists of the following elements:
• The Main Road connecting the Ghayathi Area to Madinat Zayed City (approximate length 80 km)
• The Link Road connecting the Madinat Zayed – Baynoonah Road to the proposed Road (approximate length 3.8 km)
• Road Accesses to the existing and future facilities along the proposed road
• Service Works (i.e. Ducts, Protection, Relocation) in connection to the proposed road
• 4 underpasses for vehicular U-Turns and Camel Crossing
The total approximate length of the roads we have proposed (Dual Carriageway, two lanes each flanked by two shoulder 3.0 m wide each) is 84 km.
The project has been executed in two different construction contracts, each one including one carriageway and awarded in sequence.