KAP 5 for the development of the Security Head Offices (5th Stage)
KEY FACTS
Services:
• Design Review
• PMC
• Construction Supervision
Country:
Kingdom of Saudi Arabia
Client:
Ministry of Interior (MOI)
Completion date:
On going
Characteristics:
• 370 sites, within 5 different areas and 17 different sectors around KSA
• 73 Head Office Staff
• 509 Construction supervision Staff
• US$ 5,500m Implementation Cost
GALLERY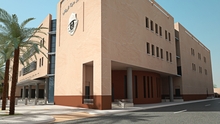 Italconsult SpA is providing engineering consultancy services (in joint venture with Gesbau2ace) for reviewing the designs and supervising the construction works of the 5th Stage of the program defined as "Consulting services for the Custodian of the two Holy Mosques King Abdulah Bin Abdul-Aziz Project" (KAP5) for the Ministry of Interior of KSA (Security Planning and Development Agency).
The project includes the Design Review, Project Management and Construction Supervision of 370 sites comprising residential buildings, administrative offices, traffic divisions, police stations, drug control units, civil defense centers etc. to be built all over the Kingdom of Saudi Arabia.
Our Team is diveded in a central Head Office and sites offices on 370 sites, within 5 different areas and 17 different sectors in the KSA.
The Head Office is responsible for the entire administrative supervision and management, cost control, technical assistance, and support services and is composed of 73 persons.
The Construction Supervision Team is composed by 509 technical staff members distributed among 17 sectors. The sites are organized with the repetition of 88 defined schemes so called "prototypes" to be adjusted to all the different locations countrywide. Each area includes several buildings, which require security systems and alarm such as fire fighting systems, specialty protection systems, gas detection systems, elevator systems, building management systems and other security systems to be monitored. Parking (ground and multistory) are also included, as well as hard and soft landscaping.
Some of the geographical locations for sites are outside urban areas, on deserts and rugged mountains far from urban areas, and this adds complexity to the logistic of the project.