KAP 4 for the development of the Security Head Offices (4th Stage)
KEY FACTS
Services:
• Design Review
• PMC
• Construction Supervision
Country:
Kingdom of Saudi Arabia
Client:
Ministry of Interior (MOI)
Completion Date:
On going
Characteristics:
• 24 sites for a Total Built-up Area of 1,564,278.66 sqm
• 50 Head Office Staff
• 338 Construction supervision Staff
• US$ 1,525m Implementation Cost
GALLERY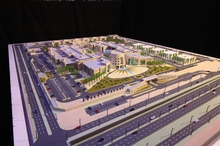 Italconsult SpA is providing engineering consultancy services as subconsultant for reviewing the designs and supervising the construction works of the 4th Stage of the program/project defined as "Consulting services for the Custodian of the two Holy Mosques King Abdulah Bin Abdul-Aziz Project" (KAP4) for the Ministry of Interior of KSA (Security Planning and Development Agency).
The program includes the Project Management, Design Review, and Construction Supervision of 24 projects (10 Directorates, 6 Dormitories, 7 Sport Training Centre and 1 Infrastructure Project) for a Total Built-up Area of 1,564,278.66 sqm.
To enhance the required fulfilment of the project scope, our Team is divided in a central Head Office and 16 area offices, within 3 different geographical areas.
The Head Office is responsible for the management, technical assistance, design review, cost control, and support services and is composed of 50 persons.
The Site Offices, with thier 338 employees, are responsible for the direct supervision on site of all the activities of the contractors and to ensure the compliance of the works with the contractual requirements and client needs.
KAP4 project has been awarded to two contractors, namely:
•Al Rashid Trading & Contracting Co. LTD (RTCC) with 16 site locations for a total value of about US$ 1,125m.
•Al Arrab Contracting Co. with 8 site locations for a total value of about US$ 400m