Douera Sports Complex
KEY FACTS
Services:
• Concept Design
• Detailed Design
• Construction Project
Location:
Algiers
Country/Region:
Algeria
Client:
WILAYA D'ALGER –
Youth sports and recreational management
Completion Date:
2017
GALLERY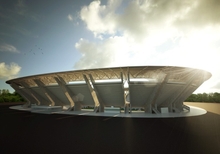 The Douera Sport Complex presents itself as a grandiose architectural project consisting of several buildings, each one with its own specific function and inserted in a harmonious unicum that has taken on the dimensions of a city of sport.
The stadium, the arena, the swimming pool and the hotel are indeed distributed in the landscape in order to create an interesting layout of pleasantly secluded buildings. The harmony in the forms is further emphasized by the use of an architectural language that prefers the eclipse and circle, both on the project design and the finishing.
The buildings take into account the existing topography of the site, not only for economic reasons, which aim to reduce work costs to a minimum, but also to maintain and enhance the original character of the landscape morphology.
A dense park completes the landscape of the "City of Sport". Sports facilities are set amongst the green orange trees that will give shade in the summer and encourage walking.