Directional ramp from Al Khail Road to Financial Center Road
KEY FACTS
Services:
• Preliminary Study
• Preliminary Design
• Final Design
• Consultancy for Tendering
• Consultancy for site Supervision
Location:
Dubai
Country:
United Arab Emirates (UAE)
Client:
Government of Dubai
RTA (Road and Transport Authority)
Completion Date:
March 2017
Characteristics:
• one viaduct 920 m long, four cast in situ post-tensioned decks
• one carriageway, 2-lane of 3,65, total length 1,002 Km
GALLERY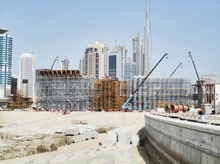 The project is located between Al Khail Road and Financial Center Road near two of the most important zones in Dubai city: Downtown Dubai (Dubai Mall, Burj Khalifa), and Business Bay (Dubai Canal, Dubai Design District D3).
The design of the directional ramp took place in June-October 2015, whereas the construction started in November 2015, and it is still in progress with a 30% completion of the work (June 2016). The construction is expected to be completed by October 2016 for a total implementation cost of USD 32.4 millions. The number of staff employed during design phase was 15 people, grouped into the following main technical areas: road engineers, bridge engineers, hydraulic engineers, utilities engineering, and quantity surveyors. The site supervision staff for the construction phase is composed of 26 people.
The project starts from the ramp connecting Ras Al Khor Road to Al Khail Road with 480 meters of weaving length, where 2 lanes of 3.65 meters will be added to the existing road. Where the road approaches the existing structure of the viaduct DOHA1-1 on Al Khail Road, a new viaduct of 920 meters long starts, with 2 lanes to the Financial Center Road joining the new design R1042.
The viaduct ramp is made by four independent post-tensioned concrete decks supported by reinforced concrete piers and abutments. It starts with the abutment A1 close to the existing viaduct DOHA1-1, and it is attached to the pier P2, then it overcrosses an exit ramp connecting Al Khail Road to Dubai Design District D3: a waterway (the Canal of Dubai), the Al Khail Road viaduct, and two directional ramps to the financial center road. Finally the bridge approaches, through an embankment, the connection point with another ongoing design project to the Financial Center Road.
The ramp, designed according to the standards of the AASHTO LRFD Bridge design specification and Geometric Design Manual for Dubai roads, has 2 lanes of 3,65 m width, for a total length of 1,002 km.