Department of Customs Headquarters and Customs Documentation Building
KEY FACTS
Services:
• Feasibility Study
• Preliminary and Final Design
• Preparation and assistance duringTender
• Construction Supervision
• Contract Management
Location:
Dubai
Country:
United Arab Emirates
Client:
Dubai Municipality
Completion Date:
March 2000
GALLERY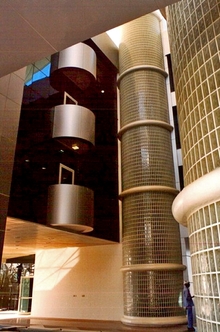 This building is the seat department of customs headquarters and customs documentation building (Dubai Customs) and it is located near the Rashid port along the AL Mina Road.
It was decided to create an architectural structure, which was harmonized with the context of the port.
The project involved the following stages:
• Engineering studies Detailed Surveys & Investigations (land use, topography, geotechnical, etc.).
• Preparation of Detailed project reports and Drawings (preliminary and final Design and landscaping).
• Preparation of Tender documents as per FIDIC Conditions.
• Invitation & Evaluation of Tender Documents.
• Construction Supervision (as the "Engineer" in terms of FIDIC conditions) involving inter alia:.
• Inspections and measurements of works.
• Checking and certification of Contractor's works an preparation of
bills for payment.
• Settlement of claims.
• Progress monitoring and quality control.
• Control during Defects Liability Period.
• Contract Management.
• Advising Client on financial matters pertaining to the operation of contract agreement.