Consultancy Services for the Development of the Southern Corniche of Jeddah
KEY FACTS
Services:
• Concept Design
• Preliminary Design
• Detail Design
• Preparation of Tender Documents
Location:
Makkah Region
Country:
Kingdom of Saudi Arabia
Client:
The Ministry of Municipal and Rural Affairs (MOMRA)(Represented by Municipality of Jeddah)
Completion Date:
2017
Characteristics:
• Master Plan for Southern Corniche 90 Km
• From Concept to Detailed Design of 510 ha project site surface 10 km of shoreline.
GALLERY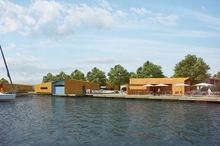 The area to the south of the city of Jeddah known as the Southern Corniche runs for approximately 90 km down the west coast and remains for the most part untouched by any major development. This shoreline represents a major opportunity to create a world-class development zone and recreational area for the citizens of Jeddah for the next generation and beyond that will be linked to the expansion of the City to the southern border.
The overall strategy is not to create a highly developed commercial beach frontage as demonstrated in other parts of the world but a more low key approach is adopted as a direct response to the conservative Muslim society and relaxed environment that the citizens of Jeddah seek and enjoy. Expectations and requests are a design proposal for a recreational area for the citizens, a place for investment opportunities and a green belt along the coast. Targets are returning the beach to the citizens, preserving the natural environment, promoting local culture and create points of interest to attract users and investors.
The objective of the project is to:
Perform a master plan for the South Corniche for 90 km. starting at the southern end of the Naval Base and ending at the southern boundary of Jeddah Governorate. The master plan sets the seen for the future development of the coastline and takes the entire current and future special situation into account.
Develop different design options for a selected area of 510 hectares, 10km of shoreline by 0,4-0,6 km of inland area, and develop this to detail design and contract documents for construction.
Both the master plan and the detail design area takes account of the sensitivity of the marine life and coral reefs along the entire length of the developments through specific environmental and maritime studies.
The project is completed in three distinct stages, comprising the following key stages and services:
Concept Stage - Desk and scoping studies, data collection, initiation of consultation and coordination with all interested parties, completion of surveys, traffic/transportation study and hydrological studies, development of options and reporting. This also includes a master plan for 90km coast-line.
Preliminary Design Stage - Design development of the agreed concept option, finalization of surveys, Geotechnical Investigations and reporting.
Detail Design Stage - Design finalization, preparation of Tender Documents and reporting.