Consultancy Services for the Development of Integrated Local Water & Wastewater Master Plan for Southern WDS
KEY FACTS
Services::
• Master Planning
• Hydraulic pressure and flow field testing
Country::
Kingdom of Saudi Arabia
Client::
Ministry of Environment Water and Agriculture
Completion Date:
On-going
Characteristics::
4 regions:
• Al Baha (11,089 skm); 
• Asir (83,000 skm); 
• Jazan (13,500 skm);
• Najran (236,900 skm).

Total Population: 5,1 mln
GALLERY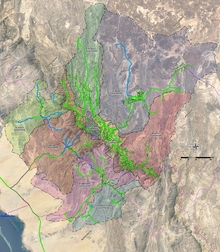 The primary objective of the project is to develop a Local Master Plan (LMP) for the Southern Region of the Kingdom of Saudi Arabia that will be integrated into the ongoing National Water and Wastewater Master Plan (NMP) for the Kingdom of Saudi Arabia. The LMP will be used as a decision-making tool for the orderly expansion of water and wastewater services of various cities and towns of the Southern Water Sector Distribution, in accordance with the Master Plan Guidelines recently developed for the National Master Plan and the International Best Practices.
The primary objective of the Southern Region Local Master Plan is to establish a basic framework for the orderly and integrated planning and implementation of water resources programs and projects, and for rational water resources management consistent with overall national socio-economic development objectives and in line with the Saudi Vision 2030 goals, as follows:
- Ensure the availability of water, adequate in quantity and quality, for all necessary uses;
- Develop a comprehensive and integrated approach to water and other socio-economic development, particularly with regard to interrelated water, land management, and environmental issues;
- Encourage the preparation and implementation of comprehensive long-term plans for the sustainable development and management of water resources;
- Formulate measures and/or water resources development projects which improve the efficiency of water supply and use;
- Identify water resources problems and set out priorities for promising water resources development projects;
- Evaluate/assess all major water and wastewater assets and service at a local level;
- Strongly improve the coverage for water and wastewater services across the Southern Region (the Vision 2030 Goals is to provide full coverage to citizens).
One of the key steps of the Master Planning process has been the assessment of potable water demand and anticipated wastewater flow to address the capabilities of existing facilities and analyze their ability to meet the needs of residential, industrial, recreational, and environmental demands through the planning horizon 2050.
The Local Water Master Plans proposes the development of future water supply and wastewater infrastructure, through extension and interconnection of the transmission pipelines and supply/collection network systems to meet the increasing demand in various cities and towns of southern Regions.
The main project tasks include: Stakeholder Outreach and Engagement; Data Collection and Situation Appraisal; Distribution Strategy and Zoning Operations study; Asset Evaluation; Level of service study; Rapid Assessment Master Planning; GIS; Asset and SCADA modeling; Hydraulic modeling; Field Testing; Master Planning.