News
Appreciation note by Borough of Emerson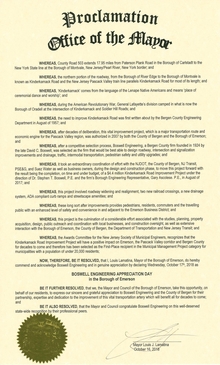 Rome (17 October 2018)
Today, 17th October 2018, the Borough of Emerson proclaimed Boswell Engineering Appreciation Day in all its territory.
The appreciation note for Boswell Engineering -a company 100% owned by ITALCONSULT- was given by the Borough of Emerson (New Jersey, USA) to acknowledge their expertise and dedication in the improvement of the Kinderkamack Road.
The $4.4 mln Kinderkamack Road Improvement Project involved roadway widening and realignment, two new railroad crossing, new drainage systems, signalization upgrades, curbs, sidewalks, ADA compliant curb ramps and streetscape amenities. This project is the culmination of a considerable effort associated with the studies, planning, property acquisitions, design, public outreach and coordination with local business, and construction oversight, as well as extensive interaction with the Borough, the County of Bergen, the Department of Transportation and NJ Transit.