News
ENR 2018 Top 225 International Design Firms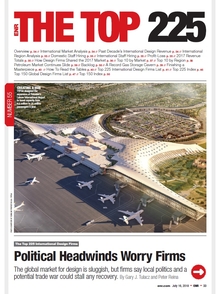 Rome (13 July 2018)
ITALCONSULT ranks in 81st position among the world largest Engineering firms by the ENR 2018 Top 225 International Design Firms.
In an interview released to ENR, Antonio Bevilacqua, CEO says "Italconsult entered the U.S. market with the acquisition of New Jersey-based Boswell Engineering Inc. in April. The move helps Italconsult's expansion both to the American market and worldwide with a solid multinational structure already existing".
ITALCONSULT has gained eighteen positions, from 99th to 81st, in the last one year and, considering only the pure engineering companies, ITALCONSULT is ranked in the 30th position competing with world leaders engineering firms.